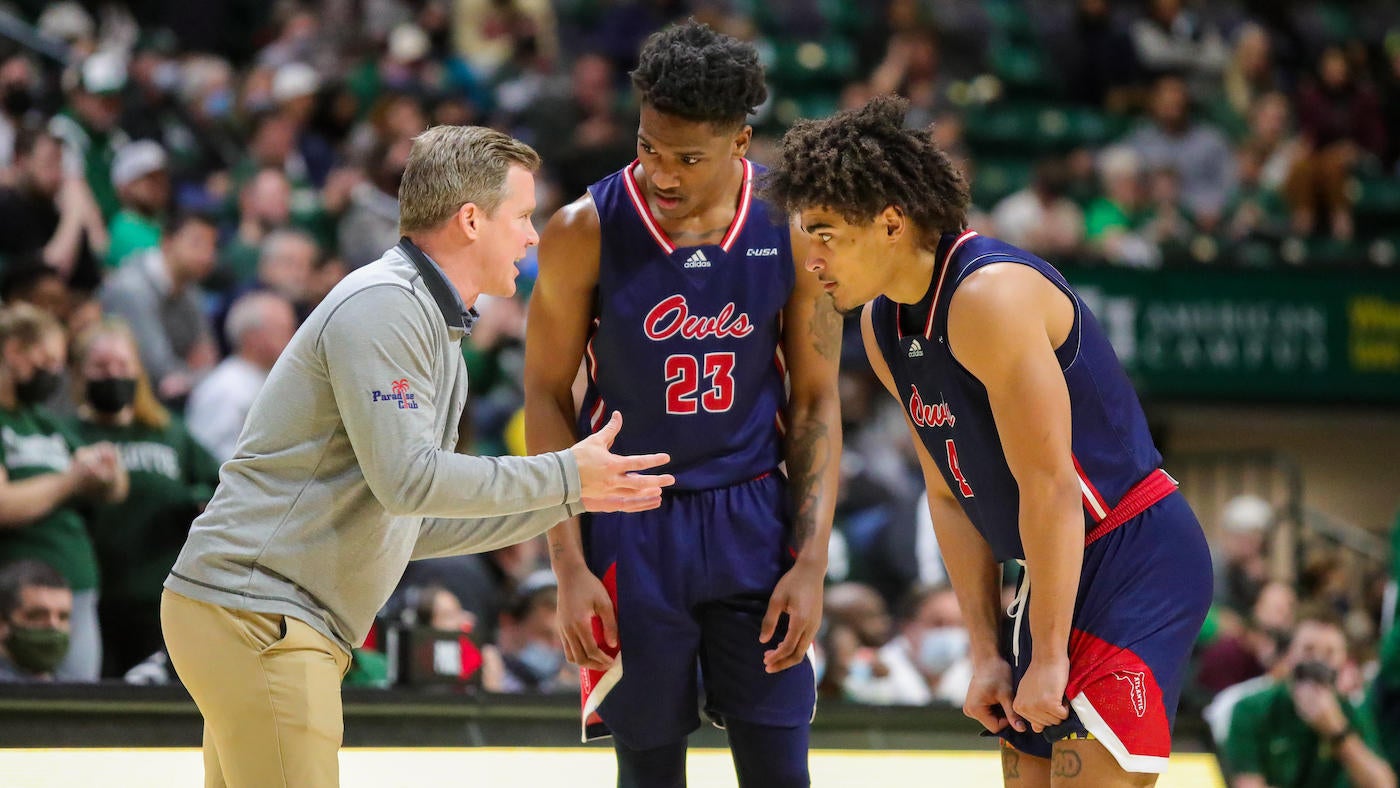 It's a partly cloudy, 76-degree afternoon in Boca Raton, Florida, and Dusty May is where you can spot him most days: walking laps around Florida Atlantic's athletic facilities. May's burned a thousand-plus calories and hoofed more than 8 miles in the first half of the day, according to his Apple Watch.
May's been up since 6:30 a.m. He instinctively scrolls through college and NBA scores each morning, then sets aside 30-40 minutes to read or watch teams unrelated to FAU and/or its upcoming opponents. After an "ice-cold" shower and a quick scoot to the office (May lives 1.5 miles from campus and bikes to work most days) he had to step outside, again, to take my call.
"Unofficial staff rule," May said. 
If any of FAU's coaches expect to be on the phone more than two minutes, they're to get in the sunshine for some walking while talking. The protocol is working: May and his FAU Owls are one of the sunniest stories of the 2022-23 season. 
In his fifth year as a head coach, May is overseeing the best Florida Atlantic campaign in program history and helping author one of the best stories in college hoops. The Owls moved from 24th to 21st in this week's AP Top 25. These past two weeks are the school's only two weeks being ranked — ever. At 19-1, FAU stands with Purdue and Charleston as the only one-loss teams in the country. 
The Owls have won 18 straight, including four of their most recent five coming on the road. 
"As a staff we laugh a little about it after games," May told CBS Sports. "We reflect for a little bit, talk about our next opponent. But like five or six times, I've said, 'Are we really 6-1, 7-1, 10-1, 12-1? Have we really not lost since Ole Miss?' We don't talk about it amongst ourselves as coaches, but we'll address it with our team."
That's been happening more as of late. It's one thing for a mid-major to get through the first month with only one loss. That will turn some heads. But to go deep into January with a single scratch? Now comes the national attention. Now comes more praise, more people finding players' cell numbers, more calls from parents to be more aggressive. 
"We need to be prepared for these things," May said. "[I'm worried] our competitive spirit will be different. I'm terrified of playing cool, now with the level of attention. They are a hard-nosed group. Don't get pretty, don't get cool. I don't want us to get complacent."  
This is all quite the jump from Oct. 27, 2018: May's first game, an exhibition against nearby Lynn University. May began his head coaching career with a loss to a D-II school. He was so uncomfortable that night, he didn't know whether to sit or stand while coaching. He sat. His wife noticed and told him not to do it again. Two weeks later, in FAU's D-I opener at UCF, the first regular season game of May's tenure also ended in an upset, only that time in his favor. The Owls beat the UCF team with Tacko Fall that would go on to nearly topple Zion Williamson and Duke in the 2019 NCAA Tournament. 
Since then, FAU had been a steady but unremarkable story in Conference USA, finishing above .500 every season under May. 
Nobody saw this phenomenal season coming. 
It's not just that FAU is a good mid-major team with a gaudy record. The Owls' eight road wins are tied for most in the country. Their metrics are elite for a small school: 15th in Strength of Record, 18th in the NET, 25th in KPI, 38th at KenPom. If the NCAA Tournament started tomorrow, FAU would be a single-digit seed. 
What makes this even more unlikely is the program's lack of history. In the realm of college basketball, FAU is a newbie. The school played its first basketball game in 1988. The Owls joined Division I in '93. They've made just one NCAA Tournament (2002). In 2023, May has guaranteed the program a fifth consecutive winning season — these past five winning years amount to half of FAU's total number of seasons above .500 in its history. 
And when FAU gets to 22 wins in the coming week or two, this season will become the program's winningest. 
"This team is as competitive as any I've ever been around," May said. "Competitive spirit encompasses almost our entire roster. Almost every minute of every day. If we're flat, we turn on the scoreboard and instantly our guys go into savage mode."
The team embraces the grind of its uncommon C-USA travel schedule, and there is no moaning over call times for workouts. Coming off their recent brutal road swing, the final day encompassed a 4:30 a.m. wakeup call in El Paso, Texas, and concluded in Boca Raton 12 hours later. This was on an off day. 
The next morning, guys were back in the gym well before 10 a.m. Nobody was late. 
You want a reason to trust this team in March? Why you should consider picking it to win a game (or two?) in your bracket? The biggest factor in FAU's success is familiarity. The Owls brought back eight of the top nine guys in the rotation, including Nick Boyd, who missed all of last season with a broken foot. FAU ranks 23rd in year-over-year minutes continuity at KenPom and is 16th in bench minutes. The core came back hungry and pissed. Last season ended in a sputter. FAU finished 3-6, and to May's count, there were six games they found a way to lose instead of carving out a route to victory.
"We had worries about poaching from the portal," May said. "But the group had a close bond, and genuinely these guys will be friends after playing together. The offseason workouts felt different, a different level of positive energy. They were competing against each other in the right way. Going hard against each other but supporting each other."
Five players average between 9.2 and 12.7 points. There is no star. Seven players have the green light from deep, and those seven collectively shoot 22.5 treys per night for a top-30 team in 3-point accuracy (37.7%). 
What also helps, and this is no small thing: May said the guys love basketball. Not just playing it, but absorbing it. They watch college and NBA ball constantly, listen to basketball podcasts and ensconce themselves in the sport basically every day.
"This team watches more basketball than the last 10 teams I've been around," May said. 
That's the stuff that helps the staff from stressing too much about this success. The Owls hold a three-game lead in C-USA. If they get to postseason play with three or fewer losses, this will be your most popular Cinderella pick in March Madness. Only thing is: their seed might be too good to qualify for Cinderella status.
History suggests could be Duke headed for trouble
Unranked Duke fell to 14-6 after losing 78-75 at Virginia Tech. The hobbled Blue Devils are wobbling again. Fact is, Jon Scheyer's checking off a lot of unwanted boxes in the First Year Coaching Challenge. Between injuries and illnesses, Scheyer told me Duke's had only a few practices since the start of preseason with everyone available to participate.
Duke is expected to announce a diagnosis Wednesday on promising freshman/key wing Dariq Whitehead, who was last seen with his left foot wrapped in ice as he stood on crutches Monday night after landing awkwardly in the second half. (We'll update the Court Report when that news lands.)
"We've had a lot thrown at us, and I believe we will be tougher," Scheyer told CBS Sports. "[It will be] better for us. Short-term and long-term."
Historically speaking, Duke is staring down an unwanted finish in the next two months. The Blue Devils are expected to occupy a spot in or near the top 10 in the rankings by late January. Shy of that, Duke almost always has a number next to its name. But that's not this team's reality, nor does it feel like its destiny. This year marks just the fourth time in the past 40 seasons that Duke has lost at least six of its first 20 games. The other three instances didn't end well:
2020-21: 11-9; finished 13-11, missed NCAAs
1995-96: 12-8; finished 18-13 as 8-seed, lost in first round
1994-95: 10-10; finished 13-18, missed NCAAs
As I've said a few times on Eye on College Basketball, there's a good chance this team is merely … fine. Not amazing, not terrible, just one blending into the environment of the season. That doesn't make for big headlines or spicy conversation, I know. Maybe this is going to be a good thing for Scheyer, who's doing a good job handling a lot of roster disorder in Year 1. 
Duke is never an underdog for practical purposes, but hear me out. In a down ACC, might the Devils be positioning themselves to play spoiler — both in league play and potentially for March? Yes, March. For all of this team's setbacks, it's not going to miss the NCAAs. Scheyer will get Duke into the Big Dance.
Baylor regains its Final Four potential
Baylor coach Scott Drew knows all about how health can impact a team's reputation (publicly) and spirit (privately). The Bears went from preseason Big 12 favorites and No. 5 in the rankings to out of the polls by early January, thanks being 10-5 with an 0-3 Big 12 start. The overlooked element was losing Adam Flagler and L.J. Cryer for five total games some weeks back. With both fully healthy again, we're seeing why Baylor still has Final Four potential.
I caught up with Drew by phone on Tuesday as he scoured through the Kansas tape at his home, trying to pick up on the small stuff he and his staff missed in real time Monday night.
"I'm 10 minutes through the first half, we're up 23-12, so right now we're really good," he said with a laugh. 
Is Baylor back? Really, it never left. Its two most recent losses came by a total of three points to Kansas State and TCU, teams that are a combined 33-7, with the K-State game requiring overtime. 
"When you lose a one-possession game it doesn't mean you played terrible," Drew said. "So often we always assume, hey things are broke, but really, one possession could be one free throw, it could be a million things."
Flagler and Cryer combined for 39 points Monday to lift BU over Kansas, marking the first time in program history the Bears beat the Jayhawks twice in a row (they last met in February 2022). Not only did Baylor elbow-off the Jayhawks, it did it with a big push to start the game and maintained its energy despite a two-day turnaround after holding on at Oklahoma by two Saturday.
Fact: Baylor is the second-youngest team by experience in the Big 12 (only Kansas is younger). Beyond that, Baylor is the only team playing three freshmen (Keyonte George, Josh Ojianwuna, Langston Love) 15 or more minutes per game. 
"The Big 12 is a different beast. Those freshmen have been adjusting to the physicality and speed of the game," Drew said. "When you beat Kansas, it does give you confidence because, historically, the past three years, we've been the best two programs. You beat them, you know you can beat anybody." 
In the grand scheme, 15-5 is admirable. The Bears also claim Quad 1 wins over UCLA and Gonzaga. The program is 12-1 in its last 13 games against top-10 competition, a historic accomplishment. A wounded Arkansas team, without a road win to its name, heads to Waco on Saturday.
@ me
The Court Report's mailbag! Find me, toss a Q and I'll answer some each week.
I'll say seven Big 12 teams wind up making the NCAAs, which would match the league record/be the seventh time the conference sent seven dancing. If you're setting the over/under at 10 NCAA tourney wins for Big 12 teams, I'll push. In the six previous instances where seven Big 12 teams went, the league averaged 7.4 wins — with only two of those six years getting the Big 12 above 10 victories. Now, the good news is the two most recent times the Big 12 got seven (2021, 2018), those years went north of 10, but it required teams making the Final Four to clear that bar: Baylor winning it all in 2021 and Kansas making the Final Four in 2018. Here's how the Big 12's fared in the six previous tournaments with seven bids. 
2021: 11 wins
2018: 12
2016: 9
2015: 5
2014: 6
2010: 9
Mark me down for 10 on the money. 
Good question! Johnie brings this up because Purdue is back at No. 1 and there isn't another Big Ten team joining it in the AP Top 25. While rare, it's not unprecedented. The most recent time a Big Six conference had a team at No. 1 but no others ranked was three seasons ago. Duke was No. 1 in late November/early December of 2019 and no other ACC teams were ranked that week. Prior to that, you have to go back to the week of Nov. 21, 2016, when No. 1 Kentucky was the lone SEC team in the AP Top 25. (My thanks to CBS Sports' research team for the assist on this.)
I have minimal confidence I'll be writing a Mountain West school into my Sweet 16. There will be a few teams capable, but what's holding me back from confidently projecting that (now) is the likelihood no MW team gets better than a No. 6 seed, meaning it's unlikely any Mountain West team would be favored twice. I do think the league will be better in March Madness this year, which is a topic I broached in last week's power rankings. 
Let's go full circle, as it's objectively Florida Atlantic — and for the first time ever. The Owls edge Miami, ranking ahead of The U in some metrics. The Hurricanes can wind up with a better seed and have the coaching experience to make a deeper run in March, but FAU has been the better team through the first 2.5 months of the season. After the Owls and Hurricanes, I'd put Florida (11-8) and then UCF (13-6). The fact Florida State isn't in the top four, and it's not close, is downright mystifying. 
Final shots
• Tonight, Pitt will celebrate the 35th anniversary of the "Send it in, Jerome!" game. A great idea, but alas, two things can't be repeated about it: Being that the game will air under the ESPN umbrella (ACC Network), CBS/Fox's Bill Raftery cannot be on the call in 2023 like he was in 1988. And since Pitt is no longer in the Big East, the opponent from '88 (Providence) isn't on the table. Wake Forest comes to town instead. 
• Speaking of Providence, Sunday's Friars-Villanova game is setting up to be a quagmire for crowd control due to the 49ers-Eagles game commencing soon thereafter. It's Philly. I'm sure everything will be fine.
• Georgetown ended its notorious Big East win drought at 29 games with its home W Tuesday over DePaul, but I'm sending just as much congratulations to Delaware State. The Hornets won in OT at South Carolina State on Monday, snapping a 41-game losing streak against Division I foes. What a weight lifted. DSU hosts Morgan State on Saturday. If it wins, would be the first time the program has logged back-to-back victories since February of 2017 😳
• Green Bay fired Will Ryan Tuesday, meaning there are six jobs open and we haven't hit February: Texas, Notre Dame, Wofford, Manhattan, Green Bay, North Carolina A&T. 
• My read on Bronny James' recruitment: USC and Oregon are 50/50. I get why Ohio State was listed among the finalists, but the Buckeyes aren't getting him.
• Nevada's controversial double-OT win Monday night against No. 25 New Mexico reinforced the 16-5 Wolf Pack's NCAA Tournament credentials. If Steve Alford gets there, he'll tie an NCAA record by coaching five schools to March Madness: Southwest Missouri State, Iowa, New Mexico, UCLA, Nevada.
• I see you, UMass Lowell. Like FAU, the 17-4 River Hawks are having their best season as a D-I program (and currently sit atop the America East). 
• Temple (12-9) is aiming to have the most polarizing résumé. The Owls own five top-80 wins: Rutgers, Houston, Cincinnati, Villanova and VCU. They've also lost to Wagner (277 at KenPom), Penn (152) and UMES (269). 
• The OVC: a bad league with a good race. Six teams are 5-3 in conference play and tied for first. Metrics claim SIUE (202 at KenPom) to be the best of the bunch. 
• I wasn't emotionally attached to the old Big Ten Tournament logo, but it was certainly better than … this. We playing hoops or rolling out cat toys? Simply confounding how often logos get messed up across all sports. 
require.config({"baseUrl":"https:\/\/sportsfly.cbsistatic.com\/fly-0395\/bundles\/sportsmediajs\/js-build","config":{"version":{"fly\/components\/accordion":"1.0","fly\/components\/alert":"1.0","fly\/components\/base":"1.0","fly\/components\/carousel":"1.0","fly\/components\/dropdown":"1.0","fly\/components\/fixate":"1.0","fly\/components\/form-validate":"1.0","fly\/components\/image-gallery":"1.0","fly\/components\/iframe-messenger":"1.0","fly\/components\/load-more":"1.0","fly\/components\/load-more-article":"1.0","fly\/components\/load-more-scroll":"1.0","fly\/components\/loading":"1.0","fly\/components\/modal":"1.0","fly\/components\/modal-iframe":"1.0","fly\/components\/network-bar":"1.0","fly\/components\/poll":"1.0","fly\/components\/search-player":"1.0","fly\/components\/social-button":"1.0","fly\/components\/social-counts":"1.0","fly\/components\/social-links":"1.0","fly\/components\/tabs":"1.0","fly\/components\/video":"1.0","fly\/libs\/easy-xdm":"2.4.17.1","fly\/libs\/jquery.cookie":"1.2","fly\/libs\/jquery.throttle-debounce":"1.1","fly\/libs\/jquery.widget":"1.9.2","fly\/libs\/omniture.s-code":"1.0","fly\/utils\/jquery-mobile-init":"1.0","fly\/libs\/jquery.mobile":"1.3.2","fly\/libs\/backbone":"1.0.0","fly\/libs\/underscore":"1.5.1","fly\/libs\/jquery.easing":"1.3","fly\/managers\/ad":"2.0","fly\/managers\/components":"1.0","fly\/managers\/cookie":"1.0","fly\/managers\/debug":"1.0","fly\/managers\/geo":"1.0","fly\/managers\/gpt":"4.3","fly\/managers\/history":"2.0","fly\/managers\/madison":"1.0","fly\/managers\/social-authentication":"1.0","fly\/utils\/data-prefix":"1.0","fly\/utils\/data-selector":"1.0","fly\/utils\/function-natives":"1.0","fly\/utils\/guid":"1.0","fly\/utils\/log":"1.0","fly\/utils\/object-helper":"1.0","fly\/utils\/string-helper":"1.0","fly\/utils\/string-vars":"1.0","fly\/utils\/url-helper":"1.0","libs\/jshashtable":"2.1","libs\/select2":"3.5.1","libs\/jsonp":"2.4.0","libs\/jquery\/mobile":"1.4.5","libs\/modernizr.custom":"2.6.2","libs\/velocity":"1.2.2","libs\/dataTables":"1.10.6","libs\/dataTables.fixedColumns":"3.0.4","libs\/dataTables.fixedHeader":"2.1.2","libs\/dateformat":"1.0.3","libs\/waypoints\/infinite":"3.1.1","libs\/waypoints\/inview":"3.1.1","libs\/waypoints\/jquery.waypoints":"3.1.1","libs\/waypoints\/sticky":"3.1.1","libs\/jquery\/dotdotdot":"1.6.1","libs\/jquery\/flexslider":"2.1","libs\/jquery\/lazyload":"1.9.3","libs\/jquery\/maskedinput":"1.3.1","libs\/jquery\/marquee":"1.3.1","libs\/jquery\/numberformatter":"1.2.3","libs\/jquery\/placeholder":"0.2.4","libs\/jquery\/scrollbar":"0.1.6","libs\/jquery\/tablesorter":"2.0.5","libs\/jquery\/touchswipe":"1.6.18","libs\/jquery\/ui\/jquery.ui.core":"1.11.4","libs\/jquery\/ui\/jquery.ui.draggable":"1.11.4","libs\/jquery\/ui\/jquery.ui.mouse":"1.11.4","libs\/jquery\/ui\/jquery.ui.position":"1.11.4","libs\/jquery\/ui\/jquery.ui.slider":"1.11.4","libs\/jquery\/ui\/jquery.ui.sortable":"1.11.4","libs\/jquery\/ui\/jquery.ui.touch-punch":"0.2.3","libs\/jquery\/ui\/jquery.ui.autocomplete":"1.11.4","libs\/jquery\/ui\/jquery.ui.accordion":"1.11.4","libs\/jquery\/ui\/jquery.ui.tabs":"1.11.4","libs\/jquery\/ui\/jquery.ui.menu":"1.11.4","libs\/jquery\/ui\/jquery.ui.dialog":"1.11.4","libs\/jquery\/ui\/jquery.ui.resizable":"1.11.4","libs\/jquery\/ui\/jquery.ui.button":"1.11.4","libs\/jquery\/ui\/jquery.ui.tooltip":"1.11.4","libs\/jquery\/ui\/jquery.ui.effects":"1.11.4","libs\/jquery\/ui\/jquery.ui.datepicker":"1.11.4"}},"shim":{"liveconnection\/managers\/connection":{"deps":["liveconnection\/libs\/sockjs-0.3.4"]},"liveconnection\/libs\/sockjs-0.3.4":{"exports":"SockJS"},"libs\/setValueFromArray":{"exports":"set"},"libs\/getValueFromArray":{"exports":"get"},"fly\/libs\/jquery.mobile-1.3.2":["version!fly\/utils\/jquery-mobile-init"],"libs\/backbone.marionette":{"deps":["jquery","version!fly\/libs\/underscore","version!fly\/libs\/backbone"],"exports":"Marionette"},"fly\/libs\/underscore-1.5.1":{"exports":"_"},"fly\/libs\/backbone-1.0.0":{"deps":["version!fly\/libs\/underscore","jquery"],"exports":"Backbone"},"libs\/jquery\/ui\/jquery.ui.tabs-1.11.4":["jquery","version!libs\/jquery\/ui\/jquery.ui.core","version!fly\/libs\/jquery.widget"],"libs\/jquery\/flexslider-2.1":["jquery"],"libs\/dataTables.fixedColumns-3.0.4":["jquery","version!libs\/dataTables"],"libs\/dataTables.fixedHeader-2.1.2":["jquery","version!libs\/dataTables"],"https:\/\/sports.cbsimg.net\/js\/CBSi\/app\/VideoPlayer\/AdobePass-min.js":["https:\/\/sports.cbsimg.net\/js\/CBSi\/util\/Utils-min.js"]},"map":{"*":{"adobe-pass":"https:\/\/sports.cbsimg.net\/js\/CBSi\/app\/VideoPlayer\/AdobePass-min.js","facebook":"https:\/\/connect.facebook.net\/en_US\/sdk.js","facebook-debug":"https:\/\/connect.facebook.net\/en_US\/all\/debug.js","google":"https:\/\/apis.google.com\/js\/plusone.js","google-platform":"https:\/\/apis.google.com\/js\/client:platform.js","google-csa":"https:\/\/www.google.com\/adsense\/search\/async-ads.js","google-javascript-api":"https:\/\/www.google.com\/jsapi","google-client-api":"https:\/\/apis.google.com\/js\/api:client.js","gpt":"https:\/\/securepubads.g.doubleclick.net\/tag\/js\/gpt.js","hlsjs":"https:\/\/cdnjs.cloudflare.com\/ajax\/libs\/hls.js\/1.0.7\/hls.js","recaptcha":"https:\/\/www.google.com\/recaptcha\/api.js?onload=loadRecaptcha&render=explicit","recaptcha_ajax":"https:\/\/www.google.com\/recaptcha\/api\/js\/recaptcha_ajax.js","supreme-golf":"https:\/\/sgapps-staging.supremegolf.com\/search\/assets\/js\/bundle.js","taboola":"https:\/\/cdn.taboola.com\/libtrc\/cbsinteractive-cbssports\/loader.js","twitter":"https:\/\/platform.twitter.com\/widgets.js","video-avia":"https:\/\/vidtech.cbsinteractive.com\/avia-js\/2.4.0\/player\/avia.min.js","video-avia-ui":"https:\/\/vidtech.cbsinteractive.com\/avia-js\/2.4.0\/plugins\/ui\/avia.ui.min.js","video-avia-gam":"https:\/\/vidtech.cbsinteractive.com\/avia-js\/2.4.0\/plugins\/gam\/avia.gam.min.js","video-avia-hls":"https:\/\/vidtech.cbsinteractive.com\/avia-js\/2.4.0\/plugins\/hls\/avia.hls.min.js","video-avia-playlist":"https:\/\/vidtech.cbsinteractive.com\/avia-js\/2.4.0\/plugins\/playlist\/avia.playlist.min.js","video-ima3":"https:\/\/imasdk.googleapis.com\/js\/sdkloader\/ima3.js","video-ima3-dai":"https:\/\/imasdk.googleapis.com\/js\/sdkloader\/ima3_dai.js","video-utils":"https:\/\/sports.cbsimg.net\/js\/CBSi\/util\/Utils-min.js","video-vast-tracking":"https:\/\/vidtech.cbsinteractive.com\/sb55\/vast-js\/vtg-vast-client.js"}},"waitSeconds":300});