Grand Theft Auto 5's 10-year anniversary celebrations in GTA Online were a disappointment for most players. Rockstar Games was expected to go all out for commemorating this major milestone, but things were quite the opposite. That said, some of the rewards currently offered in the game can be pretty beneficial in the long run and must be claimed as soon as possible.
These rewards range from purely cosmetic items, such as clothing and weapon tints, to bonus payout on in-game jobs. For those interested, here are the top five 10-year anniversary rewards to claim in GTA Online.
---

" class="promoted-img" loading="lazy" width="1440″ height="220″ alt="fortnite-promotional-banner" />

Protagonist-themed outfits and 4 other top 10-year anniversary rewards to claim in GTA Online
5) Protagonist-themed weapon tints
Grand Theft Auto 5 featured three lead characters for the first time in the series: Michael De Santa, Trevor Phillips, and Franklin Clinton. Each of them has a very distinct personality, which makes them stand out. Hence, to celebrate the game's 10th anniversary, Rockstar is offering the following unique weapon tints based on the three protagonists:
Suede Bucks Finish – Based on Michael De Santa
Employee of the Month Finish – Based on Franklin Clinton
Uncle T Finish – Based on Trevor Phillips
Unfortunately, these are limited to specific weapons, but the good thing is that they are absolutely free of cost. Log into GTA Online by September 27, 2023, to unlock them. You can apply them on their corresponding weapons at an Ammu-Nation store or the Gun Van.
---
4) Protagonist-themed outfits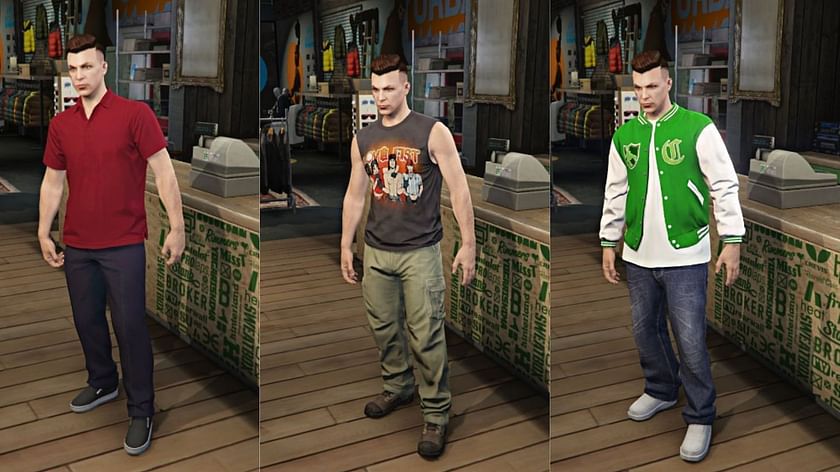 While weapon tints based on Michael, Trevor, and Franklin are certainly fun, an even better way of commemorating Grand Theft Auto 5's 10-year anniversary is donning outfits based on these lead characters. Just like in the case of the weapon tints, log into GTA Online by September 27, 2023, to unlock these three free outfits:
The Retired Criminal – Based on Michael De Santa
The Homie – Based on Franklin Clinton
The Groupie – Based on Trevor Phillips
They can be accessed at any apparel store in the game or in the wardrobe or your owned apartment. Interestingly, the GTA 6 leaked footage from last year suggests multiple protagonists might also be a part of that game.
---
3) Free ammunition, armor, and snacks
The abovementioned weapons tints and outfits are not the end of free 10-year anniversary rewards. Along with these items, logging into GTA Online will also automatically restock all of your ammunition, body armor, and snacks for free.
Given the amount of combat equipment players usually carry, refilling them can easily cost thousands of dollars. Hence, claiming this reward will save a considerable amount of money. Unfortunately, this is only a one-time reward.
---
2) Double money and RP on Hangar sell missions
As part of the GTA 5 10-year anniversary update, Rockstar Games has doubled the payout of Hangar sell missions through September 20, 2023. The Hangar is used for running the smuggler business, which is one of the best in GTA Online, especially after the San Andreas Mercenaries update.
Players can choose between land or air-based vehicles to complete resupply and sell missions, which dictates the type of challenge. With the double rewards on offer this week, one can easily make millions of dollars with this business.
---
1) Double money and RP on The Data Leaks
The Data Leaks are a series of the Celebrity Solutions Agency's VIP Contract missions. While completing The Data Leaks can easily take over an hour, these missions are definitely worth the effort, as the finale's standard payout is one million dollars.
Since that has been doubled through September 20, 2023, players can easily make millions, comparatively much faster than via Hangar sell missions. Those without this business should know that Rockstar Games has applied a 50% discount on all Agencies and their upgrades for this week.
Poll : Do you own an Agency in GTA Online?
0 votes
The Post Top 5 10-year anniversary rewards to claim in GTA Online Originally Posted on www.sportskeeda.com